We are thrilled to support the new campaign from PHA which encourages mums to be proud of breastfeeding.
Northern Ireland has the lowest rates of breastfeeding in the UK, so the #NotSorryMums campaign aims to encourage women to breastfeed and highlights how mothers never have to apologise for feeding their baby in public.
Mary Black, Assistant Director for Health and Social Wellbeing Improvement at the PHA, said: "For many mums, getting started breastfeeding isn't easy. Northern Ireland has the lowest breastfeeding rates in the UK and that is why reassurance and encouragement from others is so important.
"This campaign, the first of its kind in Northern Ireland, shows mums and women who may become mums in future, that breastfeeding their baby, no matter where they are, is normal and nothing to say sorry for. It also acts as a reminder for all of us to be supportive of women who choose to breastfeed. We all have a part to play.
"There are many health benefits associated with breastfeeding too. It reduces a baby's risk of serious stomach and chest infections and reduces mum's risk of breast and ovarian cancer.
"Support is key to helping mums breastfeed, and encouragement within the family and from the wider community can really make a difference."
Everyone is encouraged to share their support for breastfeeding mums by joining the conversation on social media using #NotSorryMums.
The campaign website – www.NotSorryMums.info – has lots of information on breastfeeding, not only for mums but also for partners and families to help them support mothers. Information especially for dads is also available, highlighting what they need to know about breastfeeding and offering practical advice and tips on how they can help their partner.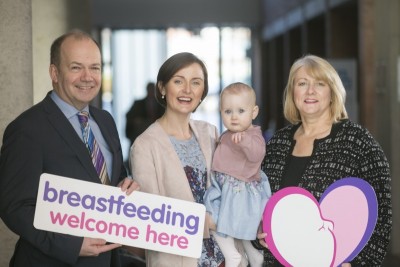 Dr Michael McBride, Chief Medical Officer, said:  "One of the great benefits of breastfeeding is that it can be done anytime and anywhere, so as a society we need to help new mothers feel comfortable in feeding their babies wherever and whenever they need to. Everyone has a role in removing any concerns or negative perceptions – from parents to wider family members, from health professionals to businesses and workplaces, all can provide more supportive environments for breastfeeding.
"Early intervention and support for families is at the heart of many of our health and social care strategies. It is central to 'Delivering Together' as the transformation of our health and social care system. Breastfeeding is a prime early intervention with benefits for mother and baby. Improving breastfeeding rates links directly to Programme for Government outcomes that 'We give our children and young people the best start in life' and 'We enjoy long, healthy, active lives'."